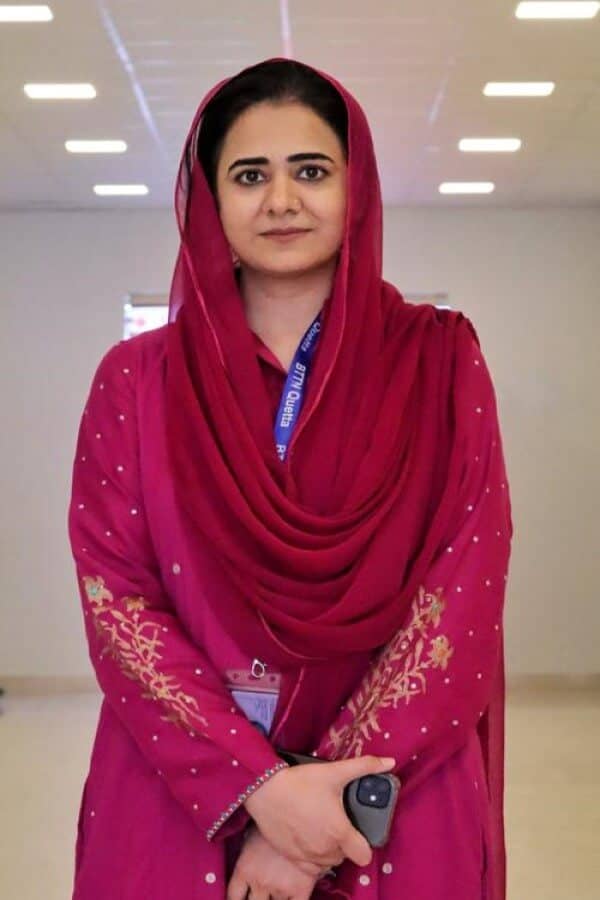 Balochistan Think Tank Network,
Balochistan University of Information Technology, Engineering, and Management Sciences (BUITEMS), Takatu Campus, Airport Road, Baleli, Quetta

Email:mariamalikawan@bttn.org.pk

Tel: +92 081 287 3346
Dr. Maria Malik is Director Research Balochistan Think Tank Network (BTTN), Quetta. Dr. Malik completed her PhD in Politics and International Relations from School of Politics and International Relations (SPIR) at Quaid I Azam University, Islamabad and School of Government and International Affairs (SGIA), Durham University, UK where she was a visiting scholar from 2017-2019. She has served as a lecturer at the Department of Politics at Kinnaird College for Women (2012-2014) and Forman Christian College University (2015-16), Lahore. Dr. Malik has served as a Young Expert at Human Rights Department in Balochistan under the Huqooq E Pakistan Project of European Union. Ms. Malik has also worked as a research consultant with LAAJVERD, GCRF and UKRI on their projects on Gender, Forced Displacement and Migration with a focus on Pakistan and Afghanistan. She has also worked as a freelance researcher for Goldsmiths UK on illegal immigration from Pakistan. Her area of research includes Baloch, Balochistan, human rights, federalism, nation (s) and nationalism, ethnicity, conflict, conflict resolution and transformation, peacebuilding, gender, forced displacement and migration.
Maria Malik,Balochistan Conundrum – The Real Perspective (Islamabad: Poorab Academy, 2013).
Certificate in 'Public Policy & Formulation: Academic and Practitioner Perspectives' – Center for Public Policy and Governance, FCCU (2015).

Certificate in 'Fundamental Rights in Pakistan' – CCEP and National Endowment for Democracy (2014).

Certificate in 'Teachers Training Course on Federalism – UNDP & CCEP (2013).

Certificate in 'Research Methodology for Social Sciences: A Qualitative Perspective' – CPPG FCCU and USAID (2013).
Presented a paper on 'Baloch Ethno-Nationalist Movement in Pakistan" at the 22nd Pakistan Workshop" in Lake District, United Kingdom (2018).

Presented a paper on `Balochistan's Geo-Strategic Significance and the Role of Great Powers` in Balochistan Think Tank's Annual Seminar, May 23, 2021.

Presented a paper titled "Sino-USA Relations & the Clash of Civilizations" at Kinnaird Multi- Disciplinary Research Conference, November 2013.
Ekanayake, A., Lakshman, R., Blitz, B. K., Aghapouri, J., Javed, A., Malik, M., & Rahim, K. (2023). Gender and Forced Displacement in Humanitarian Policy Discourse: The Missing Link. Journal on Migration and Human Security, 0(0). https://doi.org/10.1177/23315024231189487

Barrech, Dost & Malik, Maria & Muneera, & Baloch, Mir Sadaat & Anwar, Sohail. (2023). Regional Cooperation on Climate Change in South Asia. The Journal of Special Education. 38. 2023-212.

Khan, Rafi & Malik, Maria. (2023). Scarcity Of Water In Quetta -A Way Forward. 7. 1-10.

Maria Malik, "Balochistan, Baloch and the China-Pakistan Economic Corridor", Journal of Political Studies, Vol. 26, Issue – 2, 2019, 173:186.

Maria Malik, "National Security Policy Making of Peoples Republic of China", CISS Insight, Vol-III, No, 1,2 (March 2015), p. 26-40.
Undertaken and compiled a research report on 'Status of Religious Minorities in Pakistan' (2015) collaboration with YPP Standing Committee on Law, Justice & Human Rights (PILDAT)

Undertaken and compiled a research report on 'Electoral Reforms in Pakistan' (2015) in collaboration with YPP Standing Committee on Law, Justice & Human Rights (PILDAT)

Maria Malik "Structural Prejudice, Nuclear Technology and World Peace", Daily Times, November 18, 2019.

Maria Malik, "Is CPEC a 'game changer' for Baloch?", Daily Times, November 6,

Maria Malik, "Giving 'Jinnah's Pakistan' back to the Religious Minorities", Daily Times, July 12,

Maria Malik, "The 'China Dream' and the new directives of the foreign policy of People's Republic of China", Daily Times, November 10, 2019.

Maria Malik, "Who will guard the guards?", Daily Times, December 9,